Christ in F.O.C.U.S. Church is a community of believers, dedicated to Family. Outreach. Community. Unity. Service. Our F.O.C.U.S. is on Christ and the gospel. We are several small families (individuals), that make up a bigger family (our church), and are a part of the biggest family (universal church).
Our Food Bank serves people from San Miguel and Montrose counties. We aim to meet the physical needs of our community and love our neighbors. Our pastor preaches in what can be described as "Text Driven" preaching. In other words, he walks through the scriptures verse by verse in his sermons, allowing the text and context of the passage to determine the meaning.
Check out the newest messages: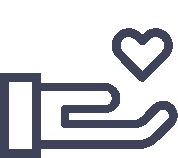 "Each person should do as he has decided in his heart — not reluctantly or out of compulsion, since God loves a cheerful giver." Sign up to receive our Pastor's weekly devotionals